White Ribbon Campaign /16 Days of Action
16 DAYS OF ACTION 2018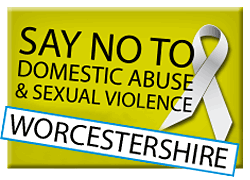 In Worcestershire we are all standing together and saying NO to domestic abuse in all its forms.
Wearing a white ribbon shows your commitment to ending domestic abuse and sexual violence and promoting respectful relationships.
A number of local activities are planned across North Worcestershire to mark the '16 Days Of Action' in support of the White Ribbon Campaign against domestic abuse. It starts on 25th November and runs until 10th December.
Worcestershire sport teams such as Worcester Warriers and Kidderminster Harriers, Councillors, schools all join us in wearing white ribbons to raise awareness of domestic abuse and sexual violence, and the effect it has on its victims.
Do you feel afraid of someone in your life who is supposed to care about you, but hurts you deliberately or doesn't let you live your life the way  you want to? Please don't suffer in silence.  Get confidential advice and suport by calling the FREE helpline:   Women: 0800 980 3331  /  Men: 0800 014 9082

www.worcestershiredomesticandsexualabuse.co.uk/ – Help and guidance for Women, Children and Men who are or have experienced domestic or sexual abuse. It also provides information for people who know someone who may be being abused.
www.mensadviceline.org.uk - Advice and support for men experiencing domestic violence from a partner or ex partner (or other family members)
www.youtube.com/watch?v=TqFaiVNuy1k – Patrick Stewart talks about his childhood experience of Domestic Violence
www.westmerciawomensaid.org/ - West Mercia Women's Aid website
www.wrsasc.org.uk/ - Worcestershire Rape and Sexual Abuse Support Centre website