This week we are urging the public to "Tell Someone" if they recognise a child or young person is being sexually exploited.  Everyone can play a role in keeping children and young people safe.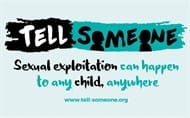 We are supporting the National Child Sexual Exploitation Awareness Day on 18 March 2019 by running an awareness week across social media and conducting local activities designed to encourage participation.
Sexual exploitation can happen to any child, anywhere.  It can happen to boys and girls.  It doesn't matter where you live, or what your parents or carers do for a living.  It doesn't matter what your race or religion is, or your sexuality.
Warning signs of grooming include unexplained gifts, unexplained changes in behaviour or personality, changes in physical appearance such as weight loss, being absent from school, staying out late, being secretive about where they are going, going missing, being overly familiar with friends that you don't know and a lack of interest in activities and hobbies.  Visit www.tell-someone.org to learn more.
Trust your instinct, if you have concerns, tell someone, call police on 101 or contact a support agency.  Details can be found on www.tell-someone.org
Download this leaflet which offers top tips so you can be aware, stay alert and keep safe
---