North Worcestershire Hate Incident Partnership are proud to announce that their Hate Crime Awareness Conference 2018 has won an award at the British Muslim Awards after a surprise nomination as a finalist last month.  
Chair of the Partnership, Nadia Rashid collected the Muslim in the Community Award for organising the Partnership's Hate Crime Awareness Conference last year as part of national Hate Crime Awareness Week.
The British Muslim Awards exist to recognise a wide range of achievements from outstanding individuals and groups across the UK who positively impact business, charity, sport, arts, culture, religious advocacy, education and medicine, while simultaneously and unknowingly battle negative stereotypes.
Nadia picked up the award for the North Worcestershire Hate Crime Awareness conference, which took place in October last year highlighting the devastating impact hate crime can have on people's lives and promoting the view that instead of being a cause of hatred, "perceived differences" should be celebrated, respected and should not be a barrier to achieving success.  The awareness conference saw powerful speeches delivered by Business Women and 2017 "The Apprentice" candidate Bushra Shaikh and local Paralympian Claire Cashmore, MBE who both shared their own experiences of hate crime and harassment on the road to success, with an 100 strong audience.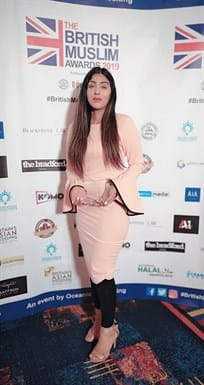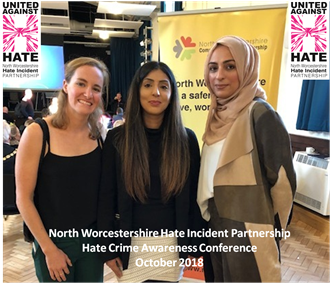 Nadia attended the star studded British Muslim Awards ceremony held in Bradford last week as the Chair of North Worcestershire Hate Incident Partnership. On wining the category on the night Nadia said: "I am so proud that we won. The event that we organised was a really positive initiative to help bring together different communities across North Worcestershire. It was a chance to celebrate perceived differences and break down the barriers associated with them and also to offer support to local communities in reporting any hate incidents so that they don't feel they have to suffer in silence."
The North Worcestershire Hate Incident Partnership aims to tackle all forms of hate crime and targeted harassment across North Worcestershire and is made up of representatives from a number of statutory, voluntary and community organisations including Redditch Borough Council, Bromsgrove District Council, Wyre Forest District Council, Local Registered Social Landlords, West Mercia Police, West Mercia Probation Trust, Youth Offending Teams and Victim Support.
For more information on how to report hate incident go to www.unitedagainsthate.co.uk
---