Congratulations go to the Wyre Forest Community Ambassadors who have been awarded the West Mercia Young Good Citizen Award recognising the great work carried out by them during the academic year 2018-2019 and was presented by Chief Inspector Jim Baker, from West Mercia Police to the outgoing Ambassadors.

The Community Ambassador project consists of 40 Year 10 students who deliver and share community safety, citizenship and wellbeing messages in their high schools and local communities across Wyre Forest engaging with 1000s.
This positive, proactive and preventative approach is achieved through awareness campaigns and events covering personal, internet and water safety, hate crime, consequences of anti-social behaviour, mental health, anti-bullying, Halloween and firework safety and the White Ribbon campaign.  Safer Wyre Forest ensures the information they receive is correct and appropriate for the age group being targeted and it is kept local and focused.  They also assist at school openings, co-ordinate charity events and help support local organisations such as Nightstop and Axis.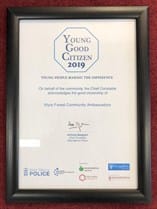 Numerous methods and interactions are used to communicate, engage and encourage proactive steps with their peers whilst promoting these important community safety messages.   This is achieved by delivering and presenting information in assemblies, tutor times, running competitions and holding information stands during school hours in key places and at parent evenings.  By using a variety of platforms it has more impact and is created and presented by them in a way that other young people can easily understand, therefore embedding these messages and way of thinking into their everyday lives.
The young people involved show commitment and drive in raising awareness of issues and subjects that are important to young people and you can see their confidence grow as they feel they are making a difference. 
To find out more about their fantastic work please visit their website www.communityambassadors.org.uk
---