Nominated Neighbour Scheme
The scheme aims to help elderly and vulnerable members of the community feel safer in their homes and reduce the chance of distraction burglars targeting the area and covers other doorstep offences such as rogue traders.
A distraction burglary involves criminals tricking their way into a home by taking advantage of the trust shown to them by the occupier. Rogue trading is defined as "Any incident where an individual, or individuals target a consumer, deliberately overcharging for unsatisfactory goods and/or services".
For more information about joining the scheme, please contact Community Safety Partnership team via email:
How it works
The client identifies a trusted neighbour, friend or relative they would like as their Nominated Neighbour and who is happy to help.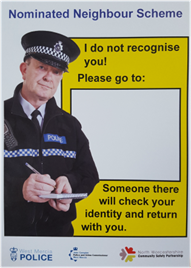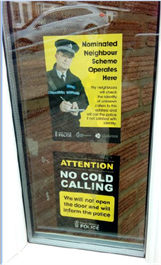 Once the form or email has been received, a uniformed police officer or Community Safety Project Officer will be in touch to arrange visits to the client and nominated neighbour to explain how the scheme works.  They will deliver a pack containing information, including window stickers and data protection/registration forms (if not previously completed) plus useful information on keeping safe is also provided as part of the scheme.
The client's address is written onto the supplied Nominated Neighbour card (it will be in the pack). 
When the client has a caller at the door they don't recognise, they will post the card back through their letterbox which will direct the caller to the Nominated Neighbour's home. 
When the caller arrives at the Nominated Neighbour's home, they will confirm their identity.  When the Nominated Neighbour is happy that the caller is genuine, they will accompany the caller to the client's home (making sure to lock their own house before they leave).
The Nominated Neighbour stays with the caller while business is conducted (unless the client requests privacy).  The Nominated Neighbour will make sure the client's house is secure and not leave the caller alone.  When the caller has completed their business, the Nominated Neighbour will then accompany them from the premises.
If there are any doubts about the identity of the caller, please call the police immediately on 999.
If the Nominated Neighbour is not at home, the client should tell the caller to make an appointment by letter and come back another day (without opening the door).
Utility companies can arrange passwords to ensure the only genuine company officials gain access to their customers' homes.
Feedback
The scheme has been warding off doorstep criminals and rogue traders in Bromsgrove and Redditch since 2017, with every member asked reporting significantly fewer cold callers or, in the majority of cases, a complete stop. Here are what some scheme members have said:
 "I've had no cold callers since. Prior to this I was constantly harassed by people at the door, making me feel vulnerable."
 "I've had people see the sticker and go away. I definitely feel safer."
 "The salespeople have stopped."