As part of National Hate Crime Awareness Week, various activities took place across North Worcestershire informing local people on the different ways to report a hate crime or hate incident, this can range from name calling and vandalism to physical attacks or stealing a person's property.  Hate crimes are motivated by prejudice, hostility or hatred towards that person's race, religion or beliefs, age, gender, sexual orientation or disability. 
Articles were published in newsletters, electronic versions of the posters were displayed across the Council's Customer Service areas and partner's receptions.  Displays and information stands were set up in numerous venues and social media was used to increase awareness.
Safer Wyre Forest funded and co-ordinated workshops with King Charles 1 High School engaging with Year 8 students.  The Community Ambassadors raised awareness in their high schools and distributed wristbands promoting the North Worcestershire Hate Incident Partnership.
If you or someone you know has experienced or witnessed a hate incident you can report it via www.unitedagainsthate.co.uk or telephone 0300 3038838.  You can also call the police on 101 but in an emergency always call 999.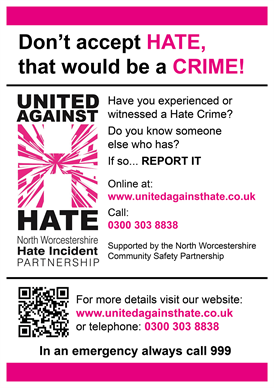 ---