Child Sexual Exploitation (CSE)
Sexual Exploitation can happen to any child, anywhere.
Child sexual exploitation (CSE) is a type of child abuse. It happens when a young person is encouraged, or forced, to take part in sexual activity in exchange for something. The reward might be presents, money, alcohol, or simply just the promise of love and affection.
It might seem like a normal friendship or relationship at the beginning, but the young person might be persuaded to do sexual things they don't want to do in return for something
Sexual exploitation affects thousands of children and young people every year. By knowing the tell-tale signs, we can all play an important role in reducing that number.
Look out for:
unexplained gifts
changes in mood
going missing
staying out late
being secretive about where they are going
lack of interest in activities and hobbies
missing school.
If you want to learn more about child sexual exploitation, how to spot the signs and how to get help if you're worried then visit "Tell Someone"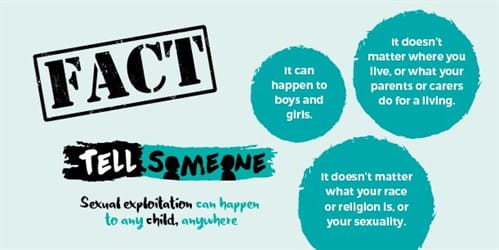 If something's not right an you think this may be happening to someone you know, please call police on 101 (always call 999 in an emergency) or contact a support agency.