Vehicle and Bike Safety
Most vehicle crime is opportunistic and happens as a result of a vehicle being left vulnerable or unsecured, for example:
Doors or windows left unlocked
Keys left in the ignition
Personal belongings on display (e.g. handbag, laptop)
Sat nav and holder  left in vehicle
Parked in a poorly lit areas
During winter, vehicles being left unlocked with engines running  to defrost
Help us to reduce vehicle crime even further and save you the hassle and expense of having to repair any damage caused during a vehicle break-in by following these tips:
As well as ensuring vehicles are locked, that the alarm is set if there is one.
Removing valuables, owners are reminded to remove the suction mounted fittings of sat nav cradles and erase any tell-tale marks.
It is also recommended that sat navs and other valuables are security marked using forensic property marking kits or UV pens, and registered on the Immobilise national property database
Display the West Mercia Police 'Stop - All Valuables Have Been Removed' postcard in the windscreen.
Cold Weather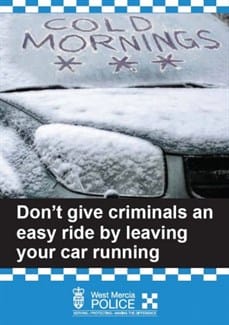 You've heard of Jack Frost, but have you heard of Frost-jacking? As the temperature drops the number of 'frost-jackings' increases.
In a frost-jacking a thief will steal a car that has been left to defrost on the owner's driveway or their street, complete with the keys in the ignition and the engine running.
If your car is stolen when keys are left in it, it is likely that your insurance will not cover you.
Top tips to help prevent frost-jacking:
Never leave the keys in the ignition, even if you are away from the car for a short time. Always lock your vehicle.
Never leave your car running unattended when de-icing. Why not use a scraper instead?
Don't leave your valuables in the car. Take them with you.
If you have a garage, use it to park your car. You won't need to scrape frost off it on a cold morning and it's out of sight.
Drivers who ignore this advice are taking big risks. Thieves will drive around residential areas looking for likely targets - when they spot a vehicle with its engine left running on a drive or outside a home, it's there for the taking.
One person will be dropped off, gets into the target vehicle and simply drives away. Many of the vehicles are never recovered, and some - especially high value models such as Mercedes, BMW and Audi - may be shipped overseas.
It is also worth remembering if your car is stolen when keys have been left in it, you may find your insurance will not cover you. If your house keys are stolen along with your car, your home is then vulnerable too.
So, this winter, don't give criminals an easy ride by leaving your car running unattended.
Safer Parking
A recent Which? survey among drivers found that finding a safe and secure place to park their car was the issue that caused them most concern.
The Safer Parking Award Scheme, run by the British Parking Association in association with the Association of Chief Police Officers (ACPO), aims to reduce crime and the fear of crime by identifying car parks that provide a safe and secure environment based upon an assessment undertaken by the police.
There are a number of Safer Parking car parks across the West Mercia area. To find out which have the awards, use the search facility at www.parkmark.co.uk If you are unable to use a Safer Parking car park, or if you are parking in the street or on your driveway, always remember to:
Park in open well-lit and secure areas wherever possible
Print off West Mercia's "Stop All Valuables have been removed" postcard. Click on the link below and when you print it, both sides of the postcard will appear on a single side of A4 paper. All you need to do is fold the paper in half and display it ('STOP' side up) on your dashboard
Ensure windows, sunroof and boot are all secured and doors locked when leaving your vehicle unattended, no matter how briefly
Take keys with you when leaving the vehicle unattended
Remove any valuables and personal belongings from the vehicle
Remove your sat nav and its cradle and wipe away any sucker marks (More information on sat nav security )
Fit an alarm or immobiliser
Activate the steering lock - whenever and wherever you park
Have the vehicle registration number etched on each of the windows
Postcode your vehicle stereo using an ultraviolet marker
Keep your vehicle in a garage if possible
Keep vehicle keys secure and out of sight
Fit a locking petrol cap and wheel nuts
CYCLE SAFETY
With an increase in cycle theft and more than half of the bikes are stolen from the owner's property, take time to look at where you store your bike and the security devices used. Remember, consider the value of your bike then look to spend the appropriate amount of money to protect it.

Record a full description of the bike to include make, model, serial number, marks features and accessories. Take pictures of the bike. Check to make sure your bike is covered by house contents insurance or for more expensive bikes specific insurance will be required.
At home
Keep your bike in a secure garage or shed. Keep it out of public view, away from prying eyes.
Secure it to an immovable object, an object a bike cannot be lifted over and cannot be broke, cut or removed.
Use good quality locks/chains that meet 'sold secure' standard. Please don't secure a £1,000 bike with a £5 lock.
Overtly mark your bike; there are many products on the market from straight forwards labels with post codes to more expensive schemes such as bike register, a national database set up just to deal with bikes. www.bikeregister.com.

You could include bikes when you register other items on Immobilise www.immobilise.com.

Out and about
Thieves do not like to be seen! Where possible, lock your bike in a well-lit, busy area. Look for CCTV coverage.
Lock both wheels and the frame to a bike stand or strong immovable object.
Lock 'tight' so your bike is hard to manoeuvre when parked.
Use good quality locks/chains that meet 'sold secure' standard.
CAR SEAT SAFETY

For more information please visit their website