25 January 2021
Thieves are opportunists, looking for an easy way to steal items of value from an unlocked or unattended vehicle-sometimes cash left on display, a Sat Nav from the glove box, a mobile phone from the dashboard or perhaps tools kept overnight in a work van.
Here are a few additional tips to help keep you and your vehicle safe this winter:
Check your fob has done it's job! Don't assume your vehicle is secure, always check doors are locked before you walk away.
Take your Sat Nav with you when leaving your vehicle, remove the cradle and wipe  away tell-tale suction pad marks.
Never leave valuables in the glove box, this is the first place thieves will look.
Don't leave shopping on view in the vehicle while you return to the shops- Lock everything in the boot, out of sight.
 Fit an alarm or immobiliser, this will also help to reduce your vehicle insurance.
 If you have a garage, use it for your vehicle.
Frosty morning warning- Don't make your car cosy for criminals.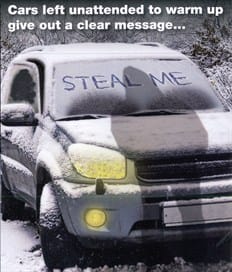 Every year, vehicles are stolen around the UK from driveways and outside homes when owners leave them to warm up with the key in the ignition.
Car thieves watch the weather forecast too and will be out early in the morning on the lookout for vehicles left unattended in this way.
Stay with your vehicle and if you are in a rush, use de-icing spray and a scraper to speed up the process.
Sit inside your vehicle while the heater de-mists the windscreen.
Claims on insurance policies can be affected, if the vehicle owner is in any way deemed responsible for the theft.
---