Rogue trading is defined as "Any incident where an individual, or individuals target a consumer, deliberately overcharging for unsatisfactory goods and/or services".
Doorstep crime encompasses distraction burglary, rogue trading and high-pressure selling.
Last year several incidents of doorstep crime were reported across Redditch and Bromsgrove bringing the need for a campaign to help prevent rogue traders activity.
To meet those needs the Nominated Neighbour Scheme has been launched in Redditch and Bromsgrove in September 2017.
The campaign has been delivered by North Worcestershire Community Safety Partnership using funding from the Police and Crime Commissioner.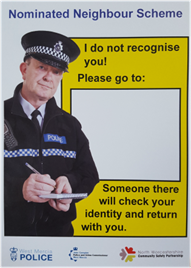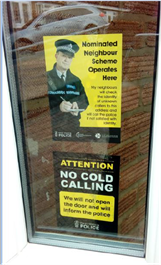 The Nominated Neighbour has been designed to protect vulnerable and elderly residents who are often targeted by this sort of crime. Bromsgrove and Redditch Community Safety teams work with communities to identify those who may be vulnerable to doorstep offences and sign them up to the scheme.
It works by directing any cold callers to a nominated, trusted neighbour, relative or a friend who will check the caller's identity and return to the address with them if the reason for their visit is genuine.
The elderly or vulnerable person could ask someone trusted to become their Nominated Neighbour or residents could offer to be one if the need for this is identified.
An information pack has been produced with all necessary information and instructions for a resident and nominated neighbour. The pack includes useful emergency contact numbers, Nominated Neighbour window sticker and the card with the address of the person who will be designated to check the caller's identity.
It is hoped that callers who are not genuine will not want their details checked and so may leave the property without hassle. This should deter cold calling in the first instance and help older and vulnerable members of the community feel safer in their homes.
The scheme will be evaluated on a regular basis by checking with residents if the aim of the scheme is being achieved, if the cold callers are being deterred from knocking their doors and if the residents are feeling safer in their homes.
---