Festive Season Safety
Christmas is a time to relax and have fun but it can also be very busy and stressful. You may be out and about more than usual for that essential Christmas shopping and to festive parties and other social events. To reduce the risk of experiencing crime during the festive season here are some helpful tips:
Don't let burglars take the sparkle out of your Christmas!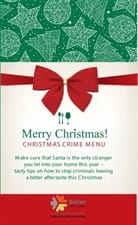 Christmas is a time of giving, so make sure it doesn't turn in to a season of taking for burglars.
Unfortunately not everyone is filled with the feelings of good will to all people at this time of year.  Burglars are as busy as ever, looking for ways to steal property from other people's homes and at this time of year they are after rich pickings as houses are full of Christmas gifts and new purchase as people prepare for the festive period.
So we want householders to make sure they step up
their home security to make sure Christmas doesn't
lose its sparkle. Throughout the festive period people
are likely to be spending more time away from home, whether shopping or visiting friends and relations.
If you go away over Christmas, even just for the day, make sure your home looks occupied and don't tempt
the opportunist burglar. By taking the following advice
you can prevent crime this Christmas.
You may need to keep those presents that Santa has dropped off early, out of sight of inquisitive little ones,
but don't be tempted to store them in the garden shed, in the caravan, or the boot of the car. Keep them in a safe place inside the house, or ask a friend if they can keep them for you.
Don't put your Christmas presents under the tree too early. They may look pretty, but you are not the only person they appeal to. Burglars have been known to break in and steal ready wrapped gifts form under the tree. Keep them out of sight until Christmas morning.
If you go out to visit friends, or know that you will not be home until after it has gone dark leave the radio on and use a timer switch to make the lights come on so it looks like someone is at home.
Your Christmas tree may look lovely with its bright lights, but don't leave the curtains open overnight for everyone to admire it - burglars are attracted to twinkly lights too.
Make sure all your doors, patio doors and windows are locked and secure, even when you are at home, and make special point of checking they are all locked before you go to bed at night. In 30% of all burglaries the thieves don't even have to break in, they get in through unlocked doors and windows.
Before you wrap your Christmas gifts write down model and the serial numbers and keep them in a safe place. You can also register your new things free on the national property register
If you are unfortunate and are burgled any property recovered by the police, which is registered on https://www.immobilise.com/ it can be returned to you. It will also help to secure a prosecution for the burglar, as police will be able to prove the item was stolen.
If you are buying bicycles, ask the shop about post coding schemes for your bike. Most bike shops will also let you store the bikes with them until nearer to Christmas Day. Your local safer Neighbourhood Team will also be able to advise about property marking.
Don't keep large amounts of cash in the house. Go to the bank as and when you need money or use debit cards.
Finally if someone offers you something at a tempting price, ask yourself, "Could it be stolen?". Not only may the quality be substandard, but it could be stolen. By buying stolen property you are supporting criminals and committing a crime yourself.
Christmas Shopping
Don't get loaded down with too many bags. Try to keep one hand free.
Try and avoid taking young children into busy shopping areas. If it is unavoidable make sure they know what to do if they lose you, e.g. tell the nearest counter assistant that they are lost and NEVER leave a shop without you.
Agree a meeting point with older children in case you get separated.
Be careful where you park your car, especially if you will be returning to it after dark.
If parking in a multi-storey car park, choose a well-lit space as close to the exit as possible and away from pillars. Reverse into position.
Keep car doors locked whilst driving in built-up areas, especially if you've got bags of presents in the car.
Don't leave presents on show in a parked car, as they could tempt thieves.
Keep alert and aware of your surroundings, especially in busy shops and crowded streets where thieves and pickpockets may well be operating.
Keep a close watch on your valuables and try not to keep them all in one place.
Christmas Parties
Watch your drinks and food to ensure that nothing is added to them.
Never leave your drink unattended, even if you are going to dance or to the toilet.
If your drink has been left unattended, don't drink any more of it.
If something tastes or looks odd, don't eat/drink any more of it. Be aware, though, that some date rape drugs are colourless and tasteless.
If someone you don't know or trust offers to buy you a drink either decline or accompany them to the bar and watch that nothing is added.
Know your own limit.
If you meet someone new at a party, avoid going home with them or inviting them back to your home/accepting a lift from them. It's safer to arrange a second date in a public place to get to know the person better. If you do find yourself alone with someone you don't know well, make sure that someone knows where you are and who you're with.
Pay attention to your instincts. If you feel uneasy about someone, there may be a reason.
Carry your keys, mobile phone and some money in your pocket on the way home, so you can give up your handbag or wallet and escape quickly if necessary.
Transport
The ideal plan is to book your cab or taxi in advance or call a licensed cab company from the party and arrange for them to pick you up right outside the venue.
Never accept a lift from a minicab touting for trade on the street. They are illegal and can be very   dangerous.
Always sit in the back of a cab/taxi and if you get chatting to the driver, do not give away personal details. If you feel uneasy with the driver, ask him to stop at a busy familiar place and get out.
If using public transport, have your ticket, pass or change ready in your hand so that your wallet or purse is out of sight.
Always wait for the bus or train in a well-lit place near other people if possible and try and arrange for someone to meet you at the bus stop or station.
Take note of where the emergency alarms are and try to sit near them.
If a bus is empty or it is after dark, you may feel safer on the lower deck as near as possible to the driver.
On trains, avoid empty compartments or compartments that have no access to corridors or other parts of the train. If you feel threatened on any public transport press the alarm and/or make as much noise as possible to attract attention of your fellow passengers or the driver or guard.

Don't drink and drive
The law:
For UK drivers, there are strict alcohol limits in breath, blood and urine. However, it is not possible to say how much alcohol you can drink while staying below the limit. The way alcohol affects you depends on:
Your weight, age, sex and metabolism
The type and amount of alcohol you're drinking
What you've eaten recently
Your stress levels at the time
So if you're driving, it's better to have none for the road.
The consequences:
There are strict penalties if you are convicted of drink driving, including:
A minimum 12 month driving ban
A criminal record
A fine of up to £5,000
An endorsement on your licence for 11 years
However, the personal consequences of being caught drink driving can impact on your life in other ways, including:
Increased car insurance costs
Losing your job
The shame of having a criminal record
Losing your independence
Trouble getting into countries such as the USA
It is estimated that a drink driving conviction can cost from £20,000 to £50,000 as a result of fines, solicitors' fees, increased car insurance costs and impacts on employment.
The advice:
Beware the morning after: you could still be over the limit the day after drinking. Sleep, coffee and cold showers don't help you to sober up – time is the only way to get alcohol out of your system.
There is no excuse for drink driving: alcohol affects everybody's driving for the worse. It creates a feeling of overconfidence, makes judging speed and distance more difficult, and slows your reactions so that it takes longer to stop.
'Only going down the road' is not an excuse: a large proportion of all drink drive crashes occur within three miles of the start of the journey.