Home Security
LIGHT UP YOUR HOME

With the darker nights, the "Lighten Up" campaign encourages residents to take a few simple steps to keep their homes safe and secure.  ​You can significantly reduce the chance of being burgled by taking a few simple precautions, especially at this time of year when we observe a peak in house burglaries. Most house break-ins are opportunistic, so don't give thieves an opportunity.
Burglars choose houses that:
have little or no obvious security
appear unoccupied
have easy, unobserved access to the side and rear
provide them with the chance to gain entry without being seen or heard
So it is possible to dramatically reduce burglaries by taking simple security measures to deter burglars and remove some of the opportunities that present themselves as easy targets.
Set a timer switch to turn lights on when it gets dark - unlit houses are  a give away that no one is at home
Save energy and money with low-energy light bulbs
Lock doors, patios and downstairs windows - even when you are in.  Make sure you double check them again before you go to bed
If you have a burglar alarm, make sure you set it when you go out and also when you go to bed
Look your garden gates and side entrances.  Don't leave tools lying around in the garden which could be used to break into your home
Don't leave car keys, ID cards or valuables near windows, doors or letterboxes, where burglars can reach through to steal them
Invest in external lighting
​People are also urged to property mark valuables and make the details viewable to the police by registering them on Immobilise: www.immobilise.com. Belongings can be registered for free and it improves the chance of getting them back if they are lost or stolen.
HOME SECURITY - Onion peeling principle
The best way to approach your home security is to start from the boundaries and work your way into the centre, treating each area as a layer, until you reach the targeted contents. This is known as the 'onion peeling principle'.
Although the layers differ for each household, generally they can be broken down as follows:
​
SMARTWATER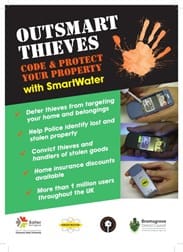 SmartWater is a forensic property marking solution that links your possessions to you and your home with a unique, invisible and permanent mark. The police scan lost and stolen items for this product, which helps them to identify the owner of the property and return it to them, as well as convict criminals. The liquid in each kit contains a unique chemical code, which is registered to you and your address. Once applied it is virtually impossible to remove. Window and property stickers are included to advertise that your home is protected. when purchased direct from www.smartwater.com/). A single kit can be used to mark 100-150 items.