In neighbourhoods up and down the country people are pulling together and demonstrating a real sense of community, and that's something we should all be incredibly proud of.
Unfortunately, the coronavirus has also seen a rise in the exploitation of vulnerable people, and on the unease,  uncertainty and anxiety that many of us are understandably feeling at this time.  These 'Bad Samaritans' con people into thinking they are helping them, or take advantage of people's good nature and their desire to help others.
Many of these scams are not new, but we may be more likely to fall victim to them given these uncertain times. With more  time spent at home, scammers and fraudsters also have more  chance to contact us – either  on our doorstep, by phone, or online.
Here's some tips from Victim Support to help prevent you becoming a victim of crime:

You can now report scam text messages by forwarding the text to '7726' and emails to NFIBPhishing@city-of-london.pnn.police.uk
FAKE GOV.UK PHISHIGNG EMAILS
Please be on your guard - criminals are exploiting the Covid-19 pandemic to defraud innocent people. They are sending fake emails and texts pretending to be from the Government.

Between Wednesday 8 April and Thursday 16 April 2020, Action Fraud received 131 reports of phishing emails in the style of official 'GOV.UK' emails and using the same logo and branding. These emails told the recipient they could get a reduction in their council tax because they were on a low income or receiving benefits. A link was provided for recipients to claim for their reduction which, they are told, will be transferred directly to their bank account.

TAKE 5
A dedicated toolkit for businesses is now live on the Take Five website to try and stop fraud.
The link is as follows:  https://takefive-stopfraud.org.uk/business-toolkit/
As you'll see the toolkit has been split into General and Business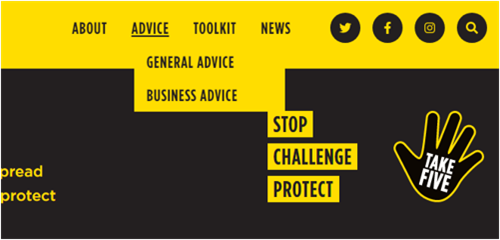 ---