Police and Crime Commissioner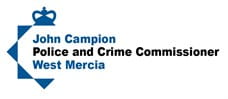 John Campion was elected as West Mercia's Police and Crime Commissioner in May 2015.
The Police and Crime Commissioner, works for and with local communities to build a safer West Mercia. It is his role to scrutinise the service you, as a member of a local community, get from your police force. He ensures your needs are met and you have a service you can trust and be confident in.
By holding West Mercia's Chief Constable to account, John Campion ensures you receive an effective, efficient police service. His role gives you and your community a voice at the highest level, ensuring your priorities are understood and acted on.

Tracey Onslow was appointed as Deputy Police and  Crime Commissioner for West Mercia in July 2016. Her role is to represent John Campion in communities across West Mercia. Her portfolio includes cyber, rural and business crime, victims services and commissioning.
For more information visit the PCC website